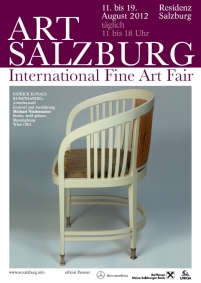 Salzburg August 2012
The Four Seasons
At the International Art Fair Salzburg we will present highlights of different periods representing Biedermeier, Ringstraße, Jugendstil and the modern style. The origin of all these objects of highest quality is Vienna.
If you need a personal ticekt, contact us by mail (office@patrick-kovacs.at), we will deposit it at the counter.
Looking forward seeing you in Salzburg,
with best regards
Patrick Kovacs
Patrick Kovacs Kunsthandel GmbH
Rechte Wienzeile 31, 1040 Vienna
Opening hours Tue-Fri 1 pm - 5 pm, December: Saturday 10 am - 4 pm
and by appointment 0043-(0)664-5005252
The Gallery in Vienna will be closed during August.